4 Common Basement Remodeling Mistakes
Many homeowners at some point want to remodel their basement. Whether your basement is already finished or is currently in an unfinished state, make sure you consider these 4 things before remodeling your basement!
Let Integrity Construction, Inc. help make your home beautiful again! Call (847) 750-3206 and speak to one of our home specialists about your next project.
1. Flooring
Hard wood or cork might look nice, but organic materials are a major no-no when it comes to a basement floor. Basements often trap humidity and are prone to leaks and flooding.

Look for materials that are inorganic and unlikely to grow mold or rot if your should encounter a problem. Thinking ahead and being cautious in your choices now can save you hundreds of dollars in repair later. Your contractor may even know of specially treated materials designed for basements that will look great and do well under cool and damp conditions!

2. Make Sure Your Basement Is Dry
Many homeowners are so eager to remodel their basement they skip the crucial step of ensuring it is dry! You will need an inspection to make sure your foundation is not leaking and that your basement is completely dry.

Taking this step prior to finishing and remodeling your basement will set you up for success. Installing any sort of flooring, wall covering, or insulation before ensuring your basement is completely dry is asking for trouble. In fact, you will be more likely to get flooding, mold, and other problems so get your basement and foundation checked before you start basement remodeling!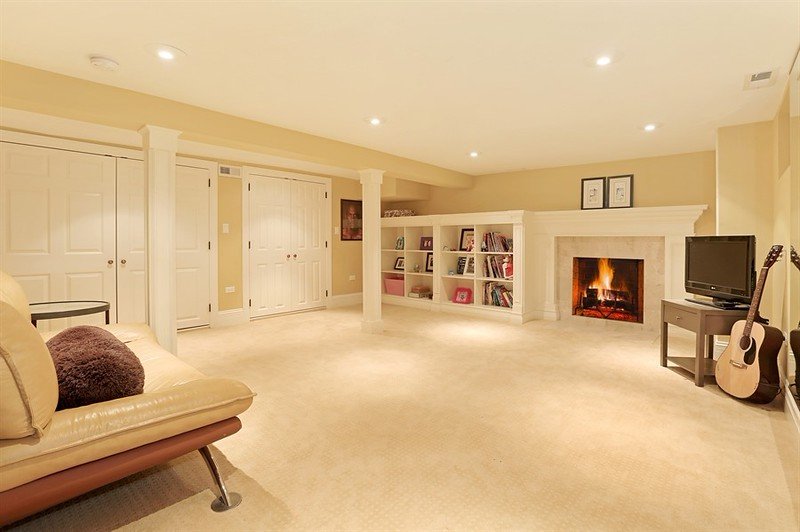 3. Making Equipment Inaccessible
Electrical panels, access points to pipes, and furnaces are all things many people do not want on display. This is understandable when you are trying to make a space both stylish and functional. But this can end up being a fire hazard or prevent you from maintaining integral parts of your home!

Unfortunately, many homeowners in the pursuit of hiding this equipment, end up making them inaccessible and not easy to use, repair, or update. Don't put permanent fixtures in these spots, and instead use cleverly designed cabinets or other options your contractor suggests to safely hide these areas if they bother you.
4. Not Considering Comfort
Form over function can sometimes happen when remodeling an area or finishing a basement. But consider the nature of basements: underground, prone to moisture problems, and cooler than the rest of your home.

When remodeling your basement be sure to make sure it is insulated properly to keep you warmer, and consider different things you can do with décor and furnishings to make a cooler space more habitable. There is no point in spending time and money on your basement if it will not be a comfortable space for you to spend time in!
Integrity Construction Consulting, Inc.
When it comes to home remodeling and new home construction projects, make sure you trust the experts. Integrity Construction Consulting, Inc. is one of Chicagoland's top remodeling and new home construction companies. Our in house team of experts can help you with every step from design to finishing touches. Contact us to arrange an appointment and get your project started.