Get A Unique Porch Now
Design your unique porch: Your porch is your own unique entertaining space. It can be used to relax, enjoy time with friends, and even just be in the outdoors. Make your porch stand out from the rest with these 4 ideas that you can get by remodeling your porch with us.
Let Integrity Construction, Inc. help make your home beautiful again! Call (847) 750-3206 and speak to one of our home specialists about your next project.
1. Stonework
Most of your standard porches and decks are simple squares made of wood. While this is fine, you can make yourself stand out from the rest by building or enhancing your porch with stonework and masonry. Large outdoor, flat, porches can be floored with different kinds of stones to make patterns, or use a single kind of stone for a classic and clean uniform look.
Stone accents and features are also a good way to incorporate masonry into your own unique porch. Think about adding touches like a stone fireplace to your outside space, or even planters.
2. Plants
It may seem obvious, but adding plants and greenery to your porch is often overlooked by many homeowners. Remember, your porch is your outdoor space, so what else could make it seem more special than incorporating natural plants to give you a more unique and special space. The possibilities are endless when using plants on your porch.
You can add hanging baskets of vines or flowers, or create a border of tall leafy plants of different shades of green. You can even have a miniature landscaped area in the center of your unique porch as a focal point. Whether it's a few planters on the edges of your porch or a carefully selected arrangement of exotic plants as your center piece, plants are a great way to make your porch more eye catching and unique.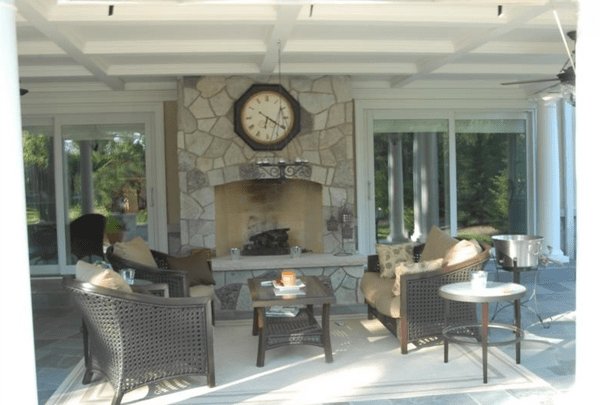 3. Shape
Have you ever considering a round porch? Or a porch with a curved edge? There's no reason your deck has to be a traditional square or rectangle. Look at your yard and space, and think about what sort of shapes would compliment what you already have and build that way. Experimenting with circles is a surefire way to make your outdoor space more luxurious looking and set you apart from the rest.
4. Layers
Double and triple decker porches are a great way to increase the space in your yard and use more of your outdoor space effectively while still having a yard to enjoy. Elevate and fence off different areas of your deck to create a stylish outdoor entertaining complex, or keep it simple with two staggered platforms. Be sure to check ordinance rules with your contractor when building though to make sure whatever outdoor structure you choose is built to code.
Integrity Construction Consulting, Inc.
For over 15 years we have been providing our customers in and near Chicago with quality remodeling services for both home interior and exteriors. We pride ourselves on building relationships with our customers so that their dream house can be a reality. Our team of experts is waiting to hear how we can help you build the perfect home so contact us today to schedule a consultation for any remodeling job. From new construction to bathrooms, porches, and basements, we do it all!