Check Out These Luxury Home Trends
Get a top of the line home with these luxury home trends! There are numerous ways to make your home luxurious and unique, but these are some of the top requested trends in the industry! Let Integrity Construction, Inc. help make your home beautiful again! Call (847) 750-3206 and speak to one of our home specialists about your next project.
1. Technology
Go high tech! Homeowners are using everything from thermostats attached to their phones through an app, to USB chargers installed in the wall. Look into lighting systems that are controlled from your phone too! These smart-home options are growing in popularity as they make life more simple and streamlined. They can also save you money! Being able to lower heating remotely helps you save on energy bills.
You can also use technology for a state of the art home surveillance system. Install cameras, lights, alarms, and more and monitor your home and get alerts when you are not home. Talk to a home construction specialist about how to make your home more tech-savvy.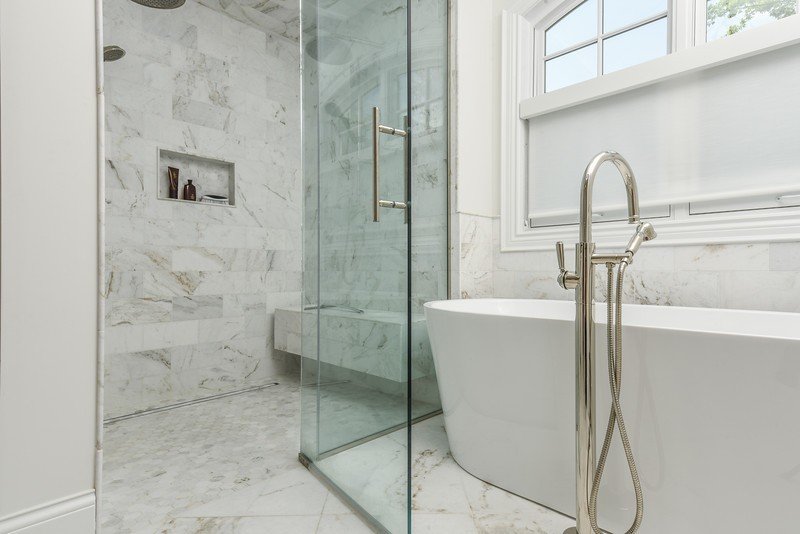 2. Luxury Bathroom
From steam showers to heated flooring, luxury bathrooms have also been a huge trend. Claw foot tubs, walk in showers, and state of the art fixtures are still popular where bathrooms are concerned. Talk to your contractor about using state of the art shower and tub fixtures, installing jacuzzis, and using luxury materials like marble in your bathroom. The sky is the limit when it comes to installing a luxury bathroom, so be creative, and ask about trends to make sure you can increase your home value.
3. Outdoor Kitchens
Entertaining and dining outside in the warmer months is on the rise when homeowners are looking for homes. Creating an outdoor kitchen area with a grill/stove area or even a brick oven can boost your curb appeal by miles. Being able to entertain guests without having to back and forth between the inside and outside of your home simplifies your life and any summer events you are hosting. Make sure you talk about gas, water, and electrical hookups to ensure they are installed properly and safely. Also make sure you have a suitably sized patio to fit your guests and your relaxing space so that your outdoor space is not too cramped.
4. Custom Purpose Built Rooms
Movie theaters, wine cellars, spas, exercise rooms, and more are taking over the luxury home market. It's your dream house so be sure to make it yours with a purpose built room! These rooms keep the rest of your home from feeling cramped and cluttered, and they also help you optimize your home by making sure it stays organized. The top rooms built for luxury home trends typically are for gaming or watching movies, but you can add on a room for whatever you want or need!
5. Parking
You'll need somewhere to put your car! Design a hidden parking spot either inside or outside for a discrete look. Or add on a garage – which can have its own heating and drainage system if you like! Adding sinks, heat, and lighting fixtures to make garages nicer is a current and popular trend. Temperature control protects your car and helps it last longer, and drainage allows you to undertake projects that are too messy for the home!
Integrity Construction Consulting Inc. is one of Chicagoland's top custom home builders. If you are interested in a new home construction or home addition please contact us for an appointment!